Geneva, Switzerland – Some Apple AC adapters sold in Switzerland, Continental Europe, Australia, New Zealand, Korea, Argentina and Brazil, could cause an electric shock.

Apple has recalled millions of two-prong wall plug AC adapters, which may, "break and create a risk of electrical shock if touched."
The wall plug adapters shipped from 2003 to 2015 with Mac and certain iOS devices, and were also included in the Apple World Travel Adapter Kit.
Compare your adapter to the images in this page.
An affected wall plug adapter has 4 or 5 characters or no characters on the inside slot where it attaches to an Apple power adapter.

Redesigned adapters (second below) have a 3-letter regional code in the slot (EUR, KOR, AUS, ARG or BRA)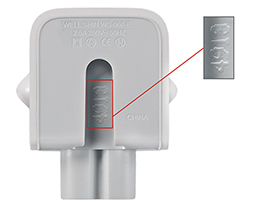 ---
Find us on Facebook where we post news from other blogs and news sites. We are also  on Twitter with news from Geneva and beyond . To receive the posts via email, kindly subscribe at the bottom of the page.